New and Most
Popular Tours
Uzbekistan, 5-Stans, Iran, Myanmar, Tibet, Bhutan, and the Caucasus
Uzbekistan with the Five Stans and Tibet are 2 of the most exciting and least traveled destinations in the world today. They are two journeys that will linger in your mind forever. With over 20 years of tour experience, coupled with the best tour prices, JMG Tours will bring you an experience like no other!!!
Myanmar (Formerly Burma) is a country truly unique to the world. It's a destination that boasts a wonderful blend of incredible ancient historical sites, wonderful scenery, and always smiling friendly locals always willing to share their day with you.
Iran Despite the obvious political turmoil, Iran remains one of the most sought after destinations in the world, and rightfully so. It boasts an incredible number of UNESCO sites and JMG's tour is able to visit most of them. From ancient Persia, to the beautifully tiled medieval Islamic architecture, to modern Iran, we experience it all. We also experience their wonderful cuisine, and everyday as Americans, we are welcomed by the friendly Iranians.
Bhutan is another of the world's most unique destinations. Because of its remoteness, nestled between Tibet, Nepal, and India, it is considered the last Shangri-la. You will be inspired at every turn on my Bhutan Tour. Please read my clients testimonials as they will leave you wanting to join us on one of my upcoming tours. If you've been searching for more info and wonderful tours to these awe inspiring destinations, you have come to the right website. Let JMG show you the world!!!
The Caucasus include Azerbaijan-Georgia-Armenia and are another of the world's least traveled and remarkable destinations, boasting incredible mountain scenery mixed with medieval splendor, wonderful UNESCO World Heritage sites, great local cuisines, and genuine warm hospitality. You'll travel from the shores of the Caspian Sea through Azerbaijan's Silk Road, through gorgeous Georgia, to the shadows of Mount Ararat, right on the border of Armenia and Turkey. It will be a voyage back in time that you will never forget.
Top Attractions
Destinations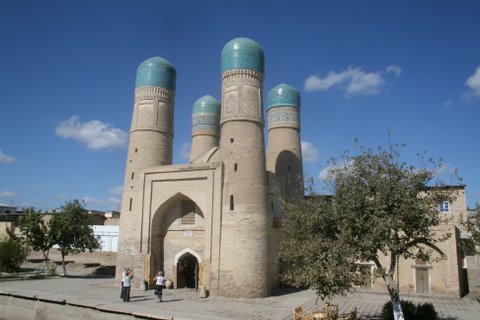 We Create Journeys Worth Taking For The Traveler
Take A Journey
Of A Lifetime
With over 20 years of tour experience, coupled with the best tour prices, JMG Tours will bring you an experience like no other!!!
What Our Travelers Say
About the Trip
Hi Jeff Without a doubt you are the most thoughtful tour operator I have ever known in all my tears of traveling ! Thank you very much for the package that arrived yesterday with the CD, maps, etc All your efforts are greatly appreciated. Hope you have a nice Thanksgiving. Thanks again, Elizabeth
ELIZABETH M.
New London, CT
Hi Jeff Happy Thanksgiving to you !! We had a wonderful time on the trip You did everything possible to make sure everyone had a great time. I though it was a great group of people and it was so much fun to visit your "son" and his family. The holiday season is upon us and things are getting hectic as usual Our new home in Arizona is under construction and once it is complete, we'd love to have you visit! Steve and Elaine
Steve and Elaine P.
Eloy, AZ
(writing in to the ITN Magazine) Jeff Garrett does an amazing job of coordinating all travel plans and keeping expenses down. I can't say enough about the wonderful job that he did making my April 5-23 trip such a success. The tour was very well organized. In Lhasa we stayed at the Kyichu Hotel, which is within walking distance of the wonderful Snowland and Dunya restaurants where our group had several meals.
Hi Jeff. Sent some pictures. Haven't figured out how to sen them in a bunch....so one by one. What a wonderful trip !! People can't figure out why we went to Tibet. But I'm sure you understand. It's about mountains, monasteries, and mystery and the wonderful people!!
Donna and Dean E.
Duluth, MN
Hi Jeff-I thought you might get a kick out of this. It took me over a year but I finally got there. I'm still working on my pictures-over 700 in all. Jeff, I want you to know the trip was wonderful. It exceeded my expectations in every way. If folks have questions and you want to refer them to me, rest assured you will get a glowing review Thanks again for all you did,~~Jo
Glad to hear about your latest trip. Bhutan sounds great , will have to consider it later on. Many people we meet are amazed that we took a trip to Tibet. They have a misconception about Tibet, and after we tell them of how great the trip was, and what we did and saw, they have a different outlook. We always recommend your tour as one of the best. Take care Pat & Norm
NORM AND PAT N.
Tijeras, NM
It was great hearing from you. I was just talking to Georgia this morning and we were commenting on the trip. We have been sending pictures back and forth, I have to say that the trip was the most exciting I have ever taken. Wishing you well and have a great New Year! ~~Terri
(writing in to the ITN Mag) I took JMG's tour to Tibet and Mount Everest in October and it was the most interesting I have ever been on. To stand at the Base Camp Everest and see the North Face of this mountain was breathtaking, an experience of a lifetime. I've been to 40 countries, and Tibet is certainly the most unique.
Thank you so much for sending us this picture of our group Needless to say it is the most memorable trip we have ever taken. So good to hear from you. As you know I was to have 4 more weeks of rehab from my open heart surgery, so the trip was quite a challenge to me. Jane with her Parkinsons's problem was another difficult situation, so the both of us had obstacles to overcome. It is lucky we took the trip when we did. We'll never forget you. Your traveling friends Lynn and Jane PS Have you tied the knot yet (maybe with a lovely young Tibetan lady)
LYNN and JANE B.
Spring Hill, FL
Jeff, It was an incredible trip. You did an outstanding job !! Enjoyed the dinners with you. All the guides and drivers were great. Thanks for a wonderful tour. Wish you wonderful things in all your new ventures !!!
Thanks for the well wishes. I was just talking about you Monday. I showed a presentation of Tibet to my family and friends at a get-together. Everyone was so amazed ! I wanted to again thank you for a terrific time. I have travelled a lot and that trip will always stand out as a really great one. I do hope to go back and in fact, do you go to other parts of Tibet ? What about other countries ? I hope you have the best of holidays and I look forward to seeing you again. ~~Mike
MICHAEL N.
Pleasant Hill, CA
Thanks Jeff, It was a wonderful group. I feel like suggesting that we should travel again sometime. No rush in getting the photos, maps, and email addresses out. I know you just got home and probably need a breather. I look forward to catching up with the others. Thank you for a fascinating, interesting, and spiritual trip. This will stay in my memory for a long time. ~Barbara
It's been a month since I've been home and it hardly feels like it. In the time since getting back, I don't think I've said thank you for our trip. I want you to know how much it meant to me. Coral and I have become very good friends. I've been exchanging email with Carole and Elaine and the others. You created a good environment for those friendships to form, and I want you to know that too. Thank you again!
Hi Jeff! Thank you so much for the photos and everything. It was truly the trip of a lifetime ! Best wishes for a wonderful winter in sunny Florida and hopefully we will get to join you again for another adventure.
Drew S.
Connellsville, PA